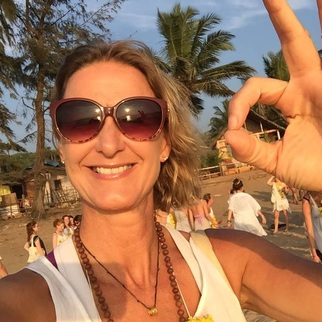 Having lived on two continents, in three countries and five states, I appreciate regularly coming home to my mat. As freelance writer and mother of two teenagers, yoga and Pilates are my personal retreat, a place for solace and serenity, balance and alignment. On good days, the flow I find on the mat transcends into my writing.
When teaching, I watch over my students' movements with the same attention to alignment that defines my scrutiny of spelling, grammar and punctuation. I teach and write with compassion and genuine understanding.
In my classes, I empower beginners and intermediate students to safely find the right positions, feel connected, become relaxed, and remain present.
In addition to my RYT500 certification through Sampoorna Yoga School in Goa, India, I have a RYT200 certification through Charm City Yoga in Baltimore (now YogaWorks). I have attended over 500 hours of training related to health, kinesiology, and anatomy. My certificates include credentials from the American Counsil on Exercise, Les Mills, Johnny G, The Pilates Coach and The Dailey Method. I have been teaching group fitness, Pilates and Barre for over 20 years, turning a passion into a flexible, part-time career. My M.A. is in North American Studies from Freie Universität Berlin, Germany and my B.A. is in American History from Western Michigan University in Kalamazoo, MI. I have worked in broadcast news in Canada and in the US. My writing has been published in various local and regional magazines and newspapers.
I live in rural Baltimore County with my loving husband, a busy teenager, a rescued dog, two lazy cats and a few crazy chickens.
---
| | | |
| --- | --- | --- |
| CERTIFICATIONS & TRAINING | "My aim as a teacher is to uplift and inspire others. I guide my students to find their highest potential as they unite body, mind and breath in the present moment. Rhythmic breathing, one-pointed focus and a sense of surrender let us access the infinite source of radiance, joy and vitality already present within." | |