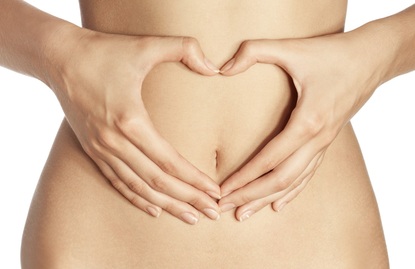 A friend asked me how to deal with diverticulitis. Here is what I do to keep my gut happy. I thought I share my suggestions with you.
Eat more
high-fiber foods
; Dr. Weil says to aim for 25 to 30 grams of fiber a day.
Drink plenty of water
(If you think you had enough, drink more).
Get at least
30 minutes of exercise
on most days of the week. I include walking and yoga (with twists – good for digestion and moving things through)
Respond to bowel urges, since constipation can increase intestinal pressure.
I drink
water with lemon juice and parsley
every morning. That starts my digestive system and keeps me on a regular schedule.
Although people with diverticula may have been told to avoid
nuts and seeds
to prevent diverticulitis, there doesn't appear to be any scientific evidence to support this recommendation. I
soak my nuts overnight
to remove the irritating outer layer. Once you remove the enzyme inhibitors and acids, the nuts go bad fast. I freeze mine at that point and have them ready for smoothies or to put on granola.
I eliminated
gluten and dairy
. I don't eat any wheat products, no soy sauce, no processed foods, no premade salad dressings. And it has made a world of a difference to my digestive system. Every once in a while I have a goat milk yogurt or goat milk kefir. If I want cheese, I eat goat/ sheep milk cheese. If I have a dairy ice cream, I am bloated for two days and retain water (up to 4 pounds). It's pretty obvious I can't tolerate it. Read William Davis'
"Wheat Belly"
To keep my gut bacteria healthy, I eat and drink
fermented foods
. I make my own kambucha (super simple and much cheaper than store bought), eat kimchi, goat kefir, etc. Check out
Dr. Perlmutter
who wrote Grain Brain. Sign up for
Donna Schwenk's
newsletter. In addition, I take probiotic supplements at night before going to bed and first thing in the morning.
DoTERRA has a great essential oil for digestive issues: DigestiZen. I think these are the best Eos on the market. Great research, conscious sourcing and production transparency. To purchase, visit
https://www.mydoterra.com/dagmarbohlmann/#/
You can put it in water and drink it. You can diffuse it near your bed. You can rub it on your tummy. It is also available in capsules, but I like the flavor of it in water. DigestZen® takes advantage of these well-established healthy compounds in a proprietary blend of pure essential oils. Ginger, Peppermint, Tarragon, Fennel, Caraway, Coriander and Anise each have specific attributes which add to the overall efficacy of this potent blend. When used internally, dōTERRA's DigestZen helps reduce bloating, gas, and occasional indigestion. It can be used preventatively.
In addition to the self-care measures described above,
Dr. Weil
recommends the following remedies for divericulitis:
•Eat according to the principles of Dr. Weil's anti-inflammatory diet pyramid, which emphasizes, whole, unprocessed foods high in fiber and fluid, both of which will aid bowel motility.
•Add extra fiber in the form of wheat bran or psyllium, being careful to take plenty of water with these bulking agents.
•Take aloe vera gel after meals, staying below the dose that causes any laxative effect.
•Eliminate all caffeine from the diet.
•Avoid tobacco in any form.
•Get regular exercise and daily physical activity.
•The normal functioning of the digestive system is directed by the parasympathetic nervous system and is highly influenced by stress. Learn and practice stress appropriate management techniques.
•Try enteric-coated capsules of peppermint oil. The usual adult dose is 0.2 to 0.4 ml three times a day.
•Use slippery elm powder prepared as a gruel, which can help soothe and heal irritated tissues in the digestive tract. Mix one teaspoon of powder with one teaspoon of sugar and add two cups of boiling water, mixing well. Flavor to taste with cinnamon if preferred and drink one to two cups twice a day.